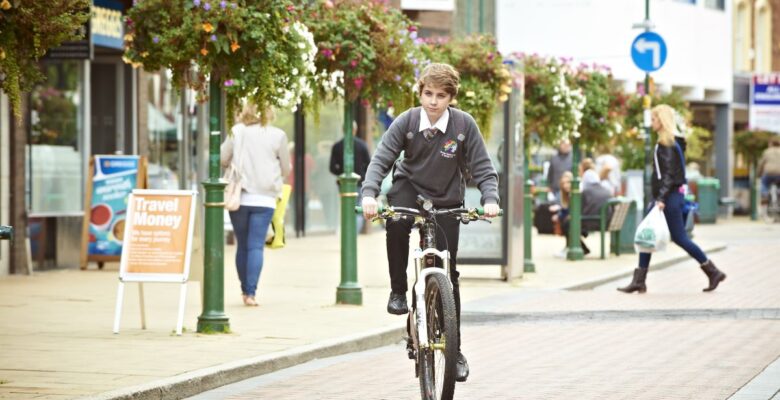 Cheshire East Council has begun work on a £1 million walking and cycling scheme in Wilmslow.
The 2 km joint walking and cycling route will run from Wilmslow railway station to the A34 bypass and will improve links to education sites, including Wilmslow High School, as well as business hubs at the Royal London site and Alderley Park.
It will also promote greener and more active travel – boosting opportunities to cycle and walk for improved health and wellbeing.
The project is expected to take 12 weeks to complete, with work commencing on 4th January. A series of road closures will be required during the construction.
The scheme includes:
Footway widening to provide a shared pedestrian and cycle path along Alderley Road, near the Royal London campus;
The existing pedestrian crossing outside the rail station will be upgraded to provide a new toucan crossing for pedestrians and cyclists;
A signed on-road cycle route will run between the leisure centre and Alderley Road, near Wilmslow High School;
Resurfacing work will take place on sections of Alderley Road and Station Road alongside additional maintenance work, such as minor drainage improvements, to take advantage of the closures.
The intention is to maintain access to business and residential properties at all times. Signed diversions will be in place during the road closures and diversion routes can also be found online.
The council recognises that there is no 'right time' to undertake works on such busy roads but this has been planned to avoid the busy Christmas period and seeks to minimise disruption to local residents, businesses and visitors. Delays to journeys are to be expected.
Cllr Craig Browne, deputy leader of Cheshire East Council, said:
This scheme will provide major improvements for sustainable transport on these key routes in Wilmslow, benefitting local families, businesses and visitors to the town. The work will really help improve access to and from the town centre for pedestrians and cyclists, providing opportunities for healthier living lifestyles through physical activity.

"We thank members of the public in advance for their patience and ask them to allow extra time for their journeys."
Cllr Suzie Akers Smith, Cheshire East Council's walking and cycling champion, said:
This is great news for local residents and visitors and a fantastic step for Wilmslow to help reduce our carbon footprint and improve air quality.

"There are significant long-term benefits to our health and environment by taking up daily active travel and there has never been a better time to walk or cycle – especially for shorter journeys – and establish greener habits.

"Walking and cycling not only help reduce congestion and improve air quality but also help communities to tackle the threat posed by the climate change emergency."
Cheshire and Warrington Local Enterprise Partnership (CWLEP) provided £900,000 of the funding for the walking and cycling scheme, with £100,000 funded by the council. CWLEP chair Clare Hayward said:
It's exciting to see this project come to life – one of eight sustainable travel schemes in the region we've funded from the Local Growth Fund. To date, we have invested a total of £5m, which will see a total of 24km of new cycle ways created, helping to link communities and businesses and giving people a healthy, viable alternative to car use."