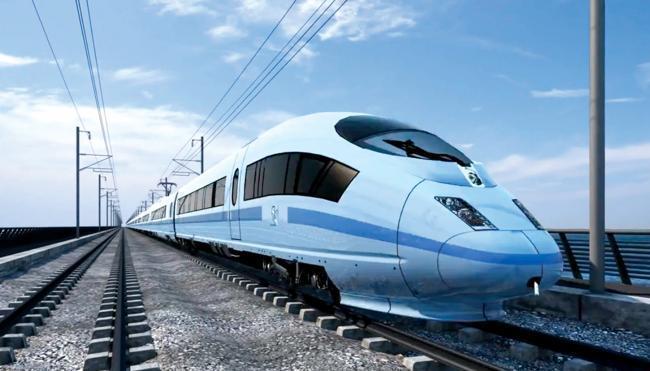 Transport Secretary Grant Shapps has unveiled the Integrated Rail Plan (IRP), the government's proposals for investment in the rail network across the UK.
Plans revealed show a particular focus on improving journey times in the North and Midlands of England and commit to a package of £96 billion of works including commitments towards high-speed links that will improve East to West connections. The IRP commits to completing HS2's western leg from Crewe to Manchester Airport and Manchester Piccadilly, helping to increase capacity on routes through Cheshire.
Proposals also confirm the electrification of the Transpennine route between Manchester, Leeds and York, a new high-speed line between Birmingham and East Midlands Parkway for onward links to Leeds and the North-east, and a new high-speed line between Warrington, Manchester and Stanedge in West Yorkshire that will form part of the Northern Powerhouse Rail route to greatly improve connectivity between Northern cities.
Other proposals in the North and Midlands include electrification work to the East Coast Mainline between London, Leeds and the North-east and the Midland Mainline between Nottingham, Derby and Sheffield, as well as a new mass-transit system for Leeds. £360 million has also been allocated to improve ticketing, bringing in London-style contactless ticketing for commuter services in the region, and ensure a nationwide rollout of online and mobile tickets across all rail providers.
Transport Secretary Grant Shapps said:
"Our plan is ambitious, deliverable and backed by the largest single government investment ever made in our rail network. It will deliver punctual, frequent and reliable journeys for everyone, wherever they live.

"Just as the Victorians gave this country our railways nearly 200 years ago, this Integrated Rail Plan will create a modern, expanded railway fit for today and future generations. Significant improvements will be delivered rapidly, bringing communities closer together, creating jobs and making places more attractive to business, and in doing so, rebalancing opportunity across the country.

"Our plans go above and beyond the initial ambitions of HS2 and Northern Powerhouse Rail by delivering benefits for communities no matter their size, right across the North and Midlands, up to 10 to 15 years earlier."
While the plans set out represent the biggest ever financial investment in the UK's railways, they have also come under fire for failing for go far enough, and in some cases appearing to renege on commitments made by the Prime Minister. In particular, criticisms have been levelled at the downgrading of HS2's Eastern leg, which will now use existing track for much of the journey between Birmingham and Leeds, reducing journey times but failing to increase capacity for increased services. Commitment to deliver a high-speed East-West route also falls short of the minimum recommendation from Transport for the North, with just 40 miles of new lines built.
More concerted action to alleviate rail traffic through congested lines in central Manchester that has been blamed on consistent delays on services in the North-west were also omitted from the IRP. The UK's seventh largest city, Bradford, will also be bypassed by improved Manchester to Leeds connections, a decision described by West Yorkshire Mayor Tracy Brabin as a 'betrayal.'
Sir Roger Marsh, chair of the NP11 group of Northern local enterprise partnerships representing businesses from Cheshire to the Scottish border, said:
"Naturally I am disappointed that our communities will not now benefit from the once-in-a-generation opportunity that Northern Powerhouse Rail and HS2 in full represented.

"Historic underinvestment in transport has held back the North's potential for decades, costing UK plc hundreds of billions of pounds of lost economic output while levelling down living standards.

"While the Integrated Rail Plan does confirm some welcome investment in several parts of the North, this will not deliver the transformational boost to rail capacity and connectivity that these two major schemes offered.

"It is true that the North needs to see transport investment now, not just in 20 years' time, however our position has always been clear that to truly level up the North and deliver the economic growth we can and want to achieve, we need the full package of local, regional and pan-northern investment that successive Governments have promised.

"We will continue to work with northern leaders, MPs and businesses to make the case for this investment and in the meantime will be holding the Government to its word that the people and businesses of the North will see the benefits of the investment confirmed today immediately."