Two radiotherapy machines weighing 6.5 tonnes each and a CT scanner weighing 3 tonnes have been delivered to The Christie at Macclesfield ahead of its scheduled opening in December 2021.
The delivery of new machinery marks the latest milestone in the development of the new facility, that will bring essential cancer services together in one purpose built new centre in Macclesfield providing care closer to home for thousands of patients in the surrounding area.
Radiotherapy is a specialised procedure using high energy radiation beams to destroy cancerous cells. The beams are targeted at the cancer cells and delivered by the machines which are known as linear accelerators. Cancer patients may have to receive radiotherapy on a daily basis for up to six weeks. Many patients from Macclesfield and beyond currently travel to The Christie Manchester; this can mean hours spent travelling each day at a time when patients and their families are already very distressed.
The two linear accelerators cost around £2 million each and will be housed in two treatment rooms at The Christie at Macclesfield. These rooms have been specially designed with concrete walls up to two metres thick.
A CT scanner costing £500,000 was also delivered during September. This equipment will be used for scans to help develop a patient's radiotherapy treatment plan and decide the best way to treat their cancer.
The £26 million development at The Christie at Macclesfield is the third in a network of local Christie radiotherapy centres where patients can access first class radiotherapy treatments from Christie experts closer to home. The other centres are in Oldham and Salford.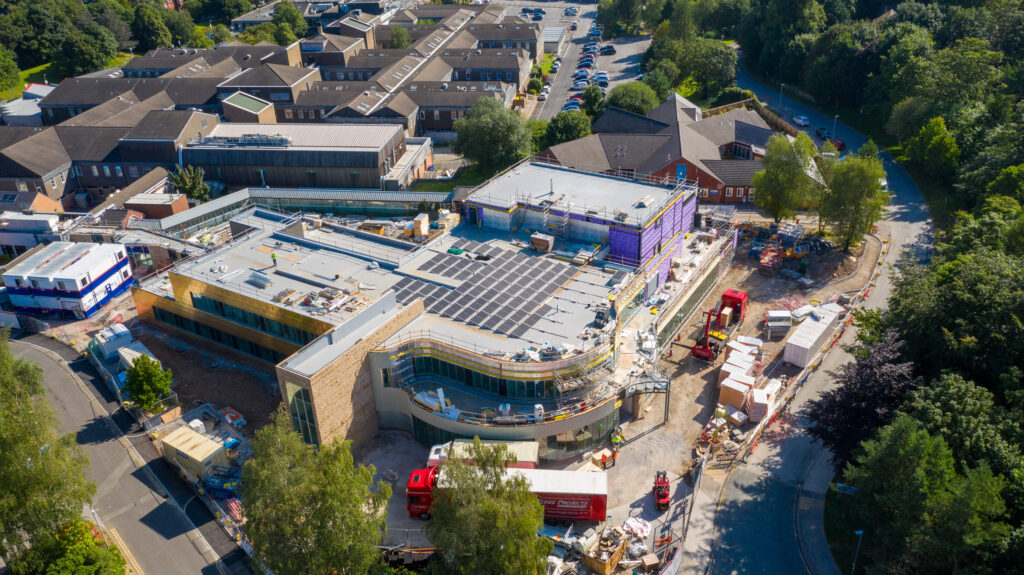 In addition to providing 12,500 radiotherapy appointments a year, The Christie at Macclesfield will transform cancer care by delivering local specialist access to chemotherapy, holistic support and information services, outpatient care, palliative care, counselling and complementary therapy and a wider range of clinical trials than at present.
Opening in December 2021, it will provide 46,000 patient appointments and visits each year and provide care closer to home for more than 1,500 patients a year.
The lead radiographer for The Christie at Macclesfield, James McGovern said:
"I am delighted with the progress at our new cancer centre in Macclesfield. The delivery of the two linear accelerators and the CT scanner is a very significant and exciting moment for the project.

"The radiotherapy linacs were delivered in 42 sections per machine and are now being assembled and installed on site which will take around four weeks. The overall project is going exceptionally well. We are on time and on budget and already achieving the high standards of quality and efficiency that are a hallmark of the three existing Christie radiotherapy services."
The Christie at Macclesfield will treat patients from Cheshire, The High Peak area of Derbyshire and parts of North Staffordshire for the most common cancers like breast, bowel, and lung. Patients with rare and complex cancers will continue to be treated at The Christie in Withington, Manchester.
The Christie charity needs to raise £23 million towards the £26 million cost of the new centre. Gifts from the public make a huge difference to the care and treatment that The Christie is able to provide to patients and their families, with donations accepted online.