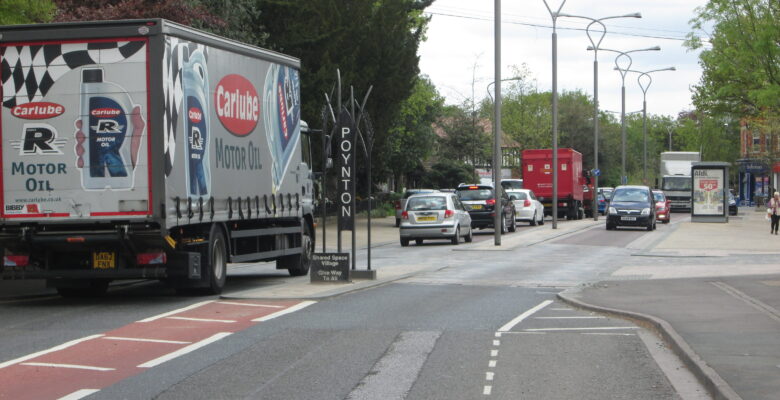 Cheshire East Council has secured funding for work on the planned Poynton Relief Road to begin in Autumn, alongside other minor roadworks postponed due to the coronavirus pandemic.
Funding for the £53 million scheme was agreed by government earlier this year. Local residents have welcomed the news that the scheme can finally begin, following decades of campaigning to ease the burden of high traffic volumes in Poynton.
A design and build contract was awarded to contractor Graham in autumn 2019, which has been undertaking early detailed design and site surveys. Early enabling works on the scheme are due to commence this autumn with the road expected to open to traffic in autumn 2022.
Poynton Relief Road will be a modern, standard single carriageway, approximately three kilometres in length. The relief road will also include two overbridge crossings for use by walkers, cyclists and farm vehicles. A 3.5 metre-wide combined cycle and footway will run beside the length of the route on the western side of the main carriageway. Further details on the route can be found on the Cheshire East Council website.
Councillor Craig Browne, deputy leader of Cheshire East Council said,
I am delighted to announce that work on the long-awaited Poynton Relief Road can finally commence.  The council sees this scheme as a key priority in improving connections across our borough.

"The Poynton Relief Road is a critical part of delivering our vision for sustainable economic growth and is another example of how this council delivers high-quality infrastructure; creating jobs, addressing the long-standing problems regarding congestion in Poynton and improving access to Macclesfield and other key strategic employment sites."
Cheshire East Council has also revealed an increase in requests for roadworks from utility companies and other third parties during the summer and autumn months. Many previously planned works were postponed due to the coronavirus pandemic, but as restrictions are lifted, these are now being rescheduled.
Councillor Laura Crane, Cheshire East Council cabinet member for highways and waste, said:
During the lockdown period, the highways team did all it could to keep the roads safe and accessible.

"As the constraints have eased, we now need to get on with maintaining and improving roads while utility companies will need to get on with their delayed works. We will ensure the road space is managed carefully and coordinated to minimise delays as much as possible.

"However, it is inevitable there will be some disruption and we apologise in advance for any inconvenience. We would ask drivers to be patient and plan ahead."
Cheshire East Council is advising drivers to visit their online system to help plan journeys.