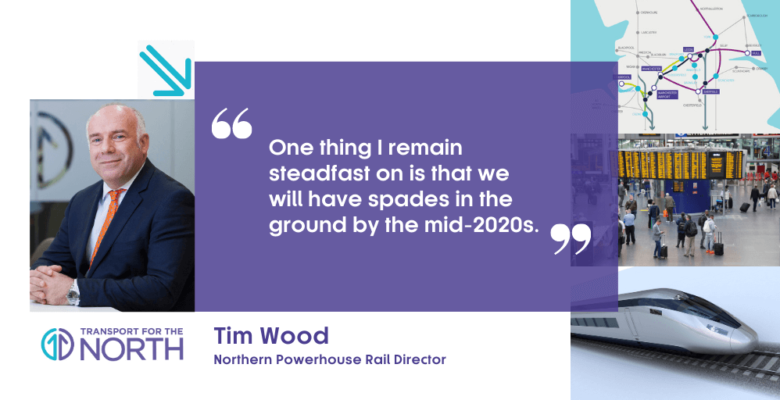 Transport for the North's Northern Powerhouse Rail Project Director has announced that construction on the high-speed rail link could begin in less than five years.
Northern Powerhouse Rail, also known as HS3, is a proposed high-speed rail link running East to West to dramatically improve connectivity and journey times between regional cities.
TfN's Tim Wood told the Westminster Social Policy Forum that he remains committed to finalising the case for the project and securing the support of the region's leaders. He proposed that an ambitious start date for construction is 'not a long time away' and recommends it as key to the Northern Infrastructure Pipeline, a series of projects proposed by the sub-national transport body to help the North of England's economy recover from the effects of the coronavirus crisis and invest in rail and road links.
Speaking on a Westminster Social Policy Forum webinar, Northern Powerhouse Project Director Tim Wood said:
Despite the obvious challenges over recent months, the NPR programme continues to progress at pace.

"One thing I remain steadfast on is that we will have spades in the ground by the mid-2020s."
He also emphasised the need for a green economic recovery in response to the crisis, saying:
Northern Powerhouse Rail will contribute significantly to reducing carbon emission levels by electrifying much of the north's rail network and it will also take 64,000 car trips off the roads each day, achieved by building passenger trust in the network through reliable, quick and modern services.

"NPR can play a key role to a green economic recovery and decarbonisation now and in the future.

"Commitment to NPR is an investment in a sustainable, greener future, while the associated work will lead to a significant upturn in the economy."
Northern leaders will have the chance to choose their rail future in November, when phasing and preferred routes are expected to be presented to Transport for the North's board. Tim Wood concluded:
By better connecting the North's towns and cities we can rebalance the economy and bring tangible benefits to Northerners that will make a real difference to their lives.

"In a few months the North will have chosen the rail future it wants. One that is transformative in terms of journey times, capacity and connectivity but also economically, socially and environmentally, too."