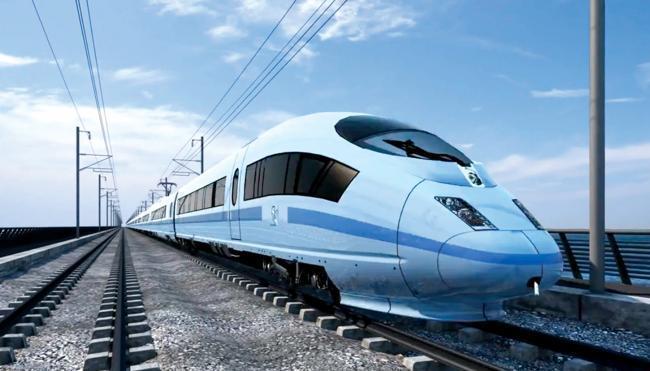 Business leaders representing the North of England have written to Prime Minister Boris Johnson following criticisms of the Integrated Rail Plan, published last week, which outlines planned investment in transport links across the region.
While commitments to deliver HS2 from Crewe to Manchester and new Warrington to Manchester high-speed link have been welcomed locally, plans fell short of meeting the region's recommendations for HS2 and the East-West Northern Powerhouse Rail, with cities such as Bradford cut off from high-speed rail, and much of HS2's Eastern leg to Leeds running on existing track.
Business leaders representing 11 Local Enterprise Partnerships across the North, as well as Chambers of Commerce from major cities, including Greater Manchester and Liverpool, and the Federation of Small Business, have penned a letter to the Prime Minister, calling for a rethink of plans and to commit to past recommendations for high-speed rail links. Signatories also set out the importance of delivering on past promises in full, highlighting the productivity and economic benefits for the region's 7 million-strong workforce, as well as the environmental benefits of increasing public transport use for inter-city journeys in the North.
The letter, in full, is reproduced below:
Dear Prime Minister,

As Business Leaders, we are fully committed to realising the North's economic potential and share the Government's ambitions for a productive, globally competitive UK.

Although there were welcome announcements for several parts of the North in this week's Integrated Rail Plan, we are concerned that the scaling back of major schemes – particularly HS2 East and the previously agreed Northern Powerhouse Rail line through Bradford – will not provide the transformational boost to rail capacity and connectivity we need. We share Government's ambitions for a high performing, productive Northern economy that supports both a Global Britain, and the levelling up that has been identified as a key goal for Government. Historic underinvestment in transport has held back the North's potential for decades, so only a truly transformational package of local, regional and pan-northern improvements will realise these ambitions.

The North's economy is growing – our 500,000 businesses have significant potential to support UK PLC: from advanced manufacturing in Sheffield to ground-breaking digital and cybersecurity services in Manchester; from biomanufacturing in Liverpool to rail and automotive engineering in the North East. Over the last 12 months, the North created £55.2 billion in goods exports, a quarter of the England total. Many of our key firms are part of multinational businesses, particularly from North America, or have always operated with a global outlook. The creation of new multi-gateway, multi-modal Freeports in the North with associated customs and tax sites, will help us to build on these strengths, attracting new investment, job creation and further driving innovation.

However, these opportunities will not be maximised without the right connectivity, which in our view depends upon the full delivery of both HS2 and Northern Powerhouse Rail as initially promised. With that investment we really can build an inclusive economy which is globally competitive, socially inclusive, and environmentally responsible.

The Northern Powerhouse Independent Economic Review identified infrastructure and connectivity, alongside skills as the root causes of the 'persistent and entrenched' – and growing – performance gap between northern economies and those elsewhere in the UK. Although we welcome the bringing forward of investment in local and regional transport networks, the Plan as published does not offer the full package of new local, regional and pan-northern rail capacity we need to draw together our 7 million strong labour market, stimulate investment and regenerate our towns and cities and widen opportunities for our people.

That's why the original plan for HS2 and Northern Powerhouse Rail is considered central to transforming our connectivity: allowing both more intercity services to run on new track, but also releasing current railway capacity for local and commuter services, extending benefits to the towns outside of metropolitan centres.

It is difficult to see how the Government's proposed programme of upgrades with limited new infrastructure will provide a comparable increase in capacity. We are also concerned that we now face a programme of lengthy disruption which has the potential to sever existing connectivity and damage the North's economy in the medium-term. Construction of the HS2 western leg is not due to commence until 2035, Construction of the HS2 western leg is not due to commence until 2035, whilst construction of the new High Speed line from Manchester to Marsden is not expected to begin until 2040. Given the Strategic Case for HS2 published in 2012 promised completion by 2033, HS2 to the North of England remains as far away now as it was a decade ago.

In the wake of COP26, Business is committed reduce their emissions and support the UK's transition to a green economy. Transport is the UK's most significant contributor to carbon emissions and, pre-pandemic, three quarters of northern employees were estimated to be commuting to work using a private car or van. Both the Eastern Leg of HS2 and delivery of NPR in full represented significant opportunities to encourage motorists out of their cars and make capacity available for more freight to travel by rail. We remain concerned that the IRP proposals will instead lock-in motor vehicle use for many years to come; initial media reports suggest the NPR downgrade alone could lead to an additional 12,000 car trips a day in the North of England.

We need the best rail solution for the economy of the North and its people and want to work with Government to achieve this. We do not believe that the Integrated Rail Plan offers this but we remain committed to working with this and successive governments to secure the right long-term transport infrastructure and capacity for the North of England and drive forward the economy of the whole UK.

Yours

Sir Roger Marsh OBE DL, Chair of the NP11 and Leeds City Region LEP

Emma Degg, CEO, North West Business Leadership Team

Clive Memmott OBE, CEO, Greater Manchester Chamber of Commerce

Juergen Maier, Vice Chair, Northern Powerhouse Partnership

Lou Cordwell OBE, Chair, Greater Manchester LEP

Amanda Beresford, Chair, West & North Yorkshire Chamber of Commerce

Chris Manka, North West Regional Lead, Federation of Small Business

Miranda Barker, CEO, East Lancashire Chamber of Commerce

Paul Cherpeau, CEO, Liverpool Chamber of Commerce

Sam Booth, CEO, pro-manchester

Frank McKenna, CEO, Downtown in Business