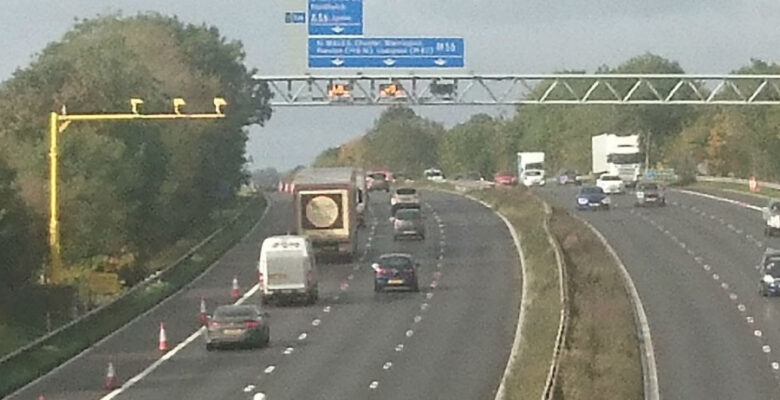 Highways England has confirmed that construction is due to begin in November on upgrades to the M56 in Greater Manchester and Cheshire.
The stretch of the motorway between Junction 6 at Hale, near Manchester Airport, and Junction 8 at Bowdon is set for £85 million of improvement works. The short section of road is one of the busiest in the North West, carrying over 100,000 vehicles daily as part of the key transport corridor between Greater Manchester and its surrounds, and the Midlands via the M6.
An extra lane will be added on either carriageway, as well as improved signage for drivers. The widening works will increase capacity for commuters into Greater Manchester, airport users, and businesses using the route to transport goods around the UK. Drainage works began earlier this year to enable to main construction works.
Highways England project manager Clare Bond said:
The start of the main construction work is a significant milestone for this project which will ease congestion and make journeys more reliable once it opens to drivers in 2022.

"This is one of the busiest sections of motorway in the North West but using the contraflow system during construction will allow us to keep all the motorway lanes open during the day with occasional overnight lane and carriageway closures."
As well as through use of a contraflow system, Highways England is working with local partners including the airport and football clubs to minimise disruption, as well as colleagues working on improvement works on the M6.
Main construction works on the M56 upgrade are expected to complete by March 2022, delivering increased traffic capacity and reduced congestion, provide more reliable journey times and and increase the quality of information for drivers through smart signage.