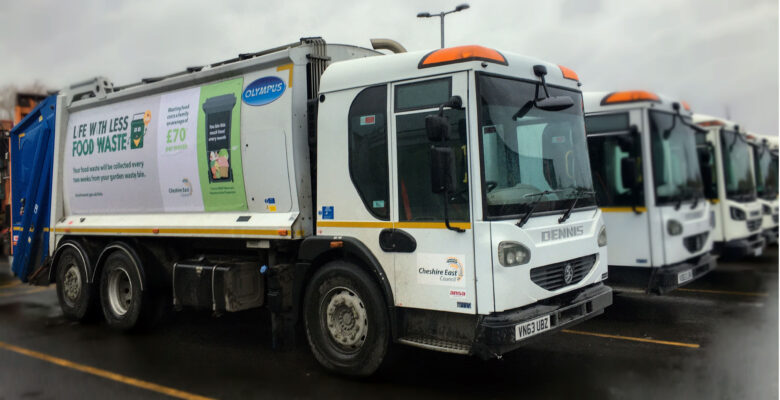 Cheshire East Council has secured planning permission to build a green hydrogen refuelling compound in Middlewich, bringing carbon and air quality benefits to the region.
Working with Storengy, funding for the £1m scheme was secured earlier this year and initially, will see a trial of two bin wagons converted to take home-produced hydrogen.
The scheme is funded by both public and private sector money – with a £345,000 grant from the Cheshire and Warrington Local Enterprise Partnership's Local Growth Fund. It will see the first green hydrogen fuelling facility in the North West of England.
Installed at the Cheshire East environmental hub in Middlewich, the refuelling facility will produce hydrogen in the greenest way possible – using an electrolyser connected to solar panels. This will provide safe, clean hydrogen fuel, which will be pumped into dual-fuel bin wagons.
Councillor Nick Mannion, Cheshire East Council cabinet member for environment and regeneration, said:
We are committed to reducing our own emissions and becoming carbon neutral by 2025. The approval of planning permission for this scheme is an exciting step towards achieving that target.

"Initially, two bin wagons owned by the council and one vehicle owned by Storengy, will be converted to use the green hydrogen. This will reduce the council's and Storengy's diesel use by more than 10,000 litres per year.

"Through our environment strategy, we intend to lead the way in green initiatives like this, taking action to respond to the global challenge of climate change and enhance and protect the natural environment of our borough."
Councillor Quentin Abel, Cheshire East Council's climate change champion, said:
This trial using hydrogen is important as hopefully it will prove suitable for our heavier and long-range vehicles, making it an alternative to diesel for our refuse vehicles as they deliver their services across our borough.

"The green hydrogen will be produced in an environmentally friendly way at the depot through renewable energy, also removing the need for fuel to be transported onto site.

"Moving to cleaner fuels, such as hydrogen, will help towards combating the increasing climate change crisis. It will also bring benefits locally through improved air quality – another strategic goal of our environment strategy."
Michael Gibson, managing director of Cheshire-based energy storage specialists, Storengy, said:
With planning permission now granted, we are one step further in demonstrating that hydrogen is viable green fuel for transport. We are really excited to be leading on this project to develop the first of its type in the UK, and to be supporting improvements for Cheshire East Council's carbon footprint and air quality. 

"As a business with many employees from Middlewich, it is also great to be investing in, and supporting, one of our local communities."