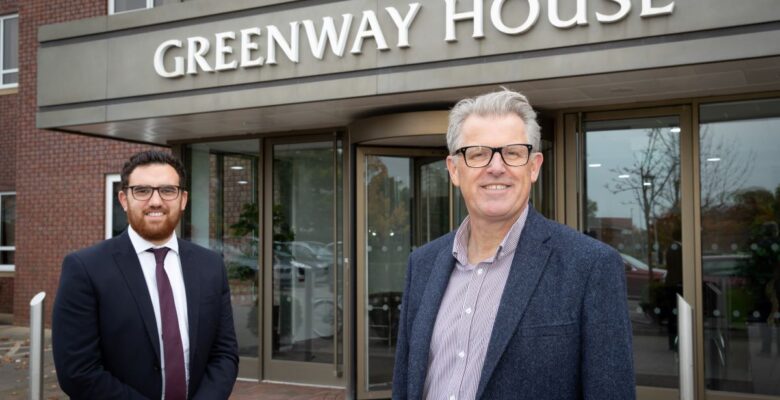 Lucid Group is increasing its share of office space on Tytherington Business Village, Macclesfield, after a sustained period of growth, which has seen the healthcare communications specialist outperform a buoyant marketplace and taken its head count in the North West to 60.
The global healthcare communications business has moved into 4000 sq ft on the ground floor of Greenway House, doubling its previous accommodation in Fernbank, to complement an existing team of 20 in Oakfield House – all on the same business park.
The majority of the space will be taken up by Lucid Group's HealthCare21 team, who specialise in creating and delivering transformative medical communications and educational programmes for healthcare professionals and patients, pharmaceutical and bio tech companies. The new office space will also be home to a number of people from its medical editorial team, COMET (Center of Medical EdiTing) and Bluedog digital team.
The HealthCare21 team, which was acquired by the Lucid Group in September 2019, have been producing healthcare materials and programmes for over 23 years. 
They specialise in scientific strategy, editorial content creation and digital design which range from delivering global educational meetings to open-source applications and partner products for live events as well as modular, digital experiential and precision training courses, including ground-breaking documentary-style videos, simulating interactions between care team members and patients.
Lucid Group also develop a number of different tools for patients that empower those with long-term conditions to take control of their treatment programmes via a range of telehealth digital resources, phone or video consultation apps. The expansion in Macclesfield will also provide the organisation with vital access to new talent pools.
Cliff Wyatt (pictured, right), Managing Director for the Healthcare 21 team said the move was a result of natural growth, but also the impact of Covid19, which has immeasurably fast-tracked the use of online learning and exchange between healthcare professionals and the development of digital education tools for the sector. He said:
Macclesfield has a rich heritage as a medical communications hub, so we were always going to stay in the area – we just needed more suitable space for our expanding team."
Forty of the 60-strong team at communications specialist Healthcare 21 are now in Tytherington Business Village's Greenway House in a mix of content generating, account management, publishing and digital roles. Cliff again:
Greenway gives us stylish, professional, open plan offices where we can all be together – better for collaborative, creative working – with great parking facilities and transport links.

We are, of course, familiar with the rural benefits of the Business Village and we have now bought some branded Elephant Bikes via the CycleofGood scheme so we can cycle between offices, get some exercise and enjoy all the green space."
Benn Dickinson (pictured, left), Leasing Manager from Orbit Developments, said it had been great to see  the evolution of HealthCare21's business over the years:
They are one of our longest-standing customers so it's especially rewarding to be helping them expand into new, more spacious accommodation on Tytherington."
Tytherington Business Village is an established mixed use business and residential community sat in 43 acres of mature parkland. It offers a variety of space solutions from one person suites to self-contained properties to suit all types of businesses.