Jeff Ross, top physio from Wilmslow-based Harris & Ross, shares his top 10 tips for good physical health at work. Sitting kills and moving heals, so here is his expert advice.
Backs are the most common area of injury; and injury can build up over time due to various factors; repetitive movements (or lack of movement!), load, bad posture. Try to avoid these things to minimise your risk.
Your head weighs about 5kg. This is a heavy load for your back to carry against gravity all day every day! Try not to stand still, or sit for too long. This is when load from gravity and lack of movement can cause pain.
Your back is made up of stacked cylindrical bones with the fluid discs in between. When your back is repeatedly bent, 'discs' end up bulging and this is what causes the pain.
Load levels differ depending on the position that we are in; the biggest being when seated badly – i.e. slumped forward. Try to sit upright, with your back up against the back of the chair.
Non-exercise activity thermogenesis (NEAT) is the energy expended for everything we do that is not sleeping, eating or sports-like exercise. For example – fidgeting, standing up, sitting down, walking, drying your hair or unloading the dishwasher – just keeping these small movements going and introducing even more of them into your lifestyle can make a big difference in your health.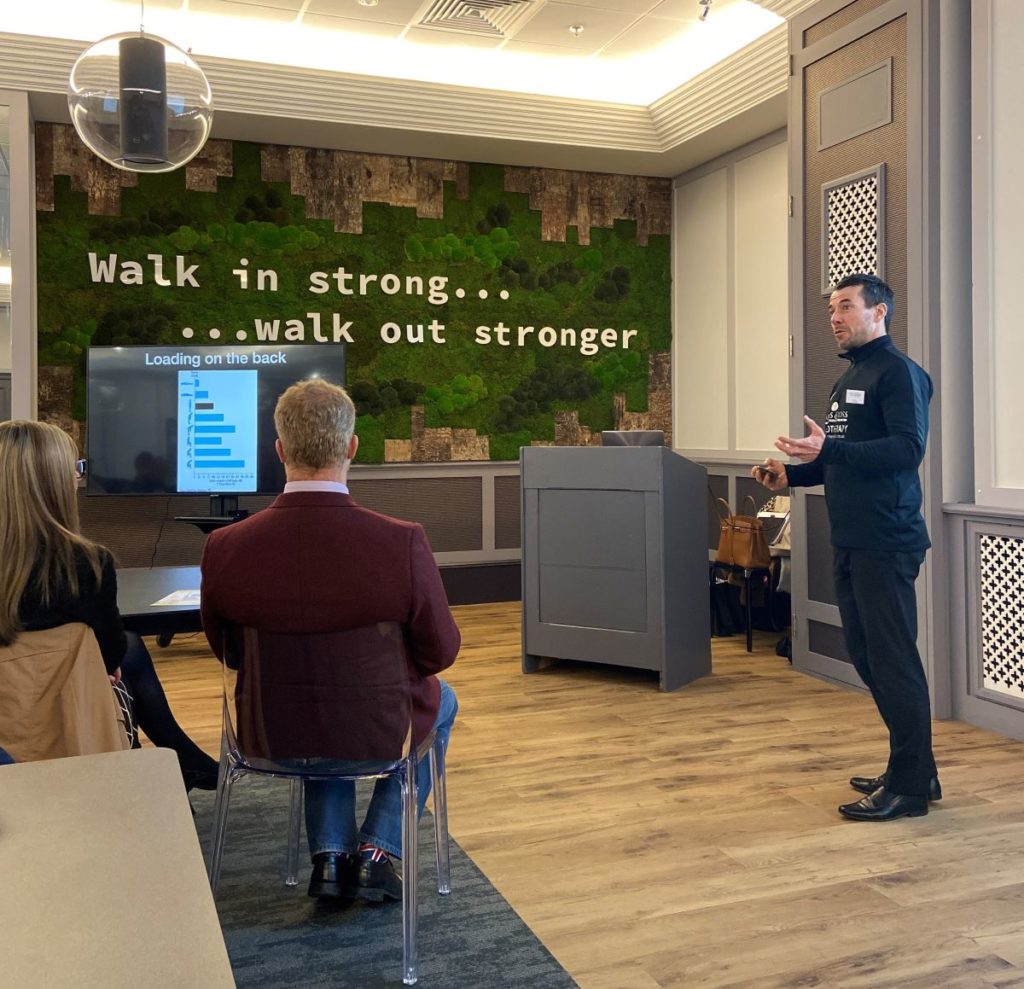 Even your DNA health can be extended and prolonged by increasing small movements and your overall fitness, by decreasing the decline rate of your 'telomeres', which naturally decline with age.
If you are office based and spend the majority of your day at your desk, try to stand up once every 30 minutes to see these benefits.  Go and see a colleague, collect something from the printer, make a cup of tea or have a walk.
If you are a manual worker doing something which involves regular movement, try to vary the movement as much as you can and reduce load where possible.
Regular and reasonable levels of exercise are the ideal. Simply sitting all day, then having a heavy gym session, then continuing to sit, is asking a lot of our backs. It's better to build small levels of exercise into the day.
Don't sit or stand or stay in any one position for too long – this is what causes problems. Keep moving!