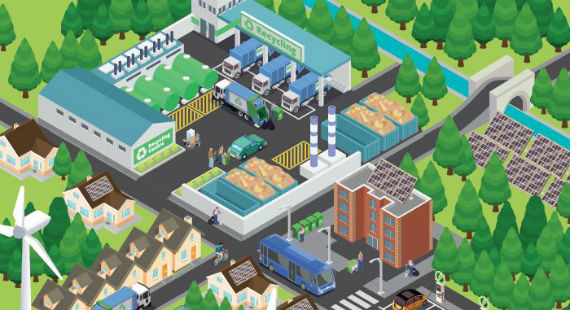 At their first online meeting since the start of the coronavirus outbreak, Cheshire East Council's cabinet have agreed an environment strategy.
At the council meeting on 22 May 2019, elected members noted the UK declaration of a climate emergency and unanimously approved a notice of motion that requested a Cheshire East environment strategy be brought forward as a matter of urgency.
The agreement is the first environment strategy that Cheshire East has developed. It sets out the priority actions that will be taken to respond to the global challenge of climate change and how the natural environment of the borough will be enhanced and protected.
The council consulted on the draft strategy during October and November and received a high number of responses from a broad variety of participants. There have been wide-ranging changes to both acknowledge and respond to the consultation feedback – in particular the key challenges highlighted by respondents.
Councillor Nick Mannion, Cheshire East Council cabinet member for environment and regeneration, said:
It is widely accepted that climate change is happening as a result of human activity.

"We are committed to taking actions that will have a positive impact on the environment and create opportunities to benefit our borough. Our strategy aims to ensure that we provide strong environmental leadership and focuses on how all activities across our council support its priorities."
Councillor Quentin Abel, Cheshire East Council's climate change champion, said:
Thank you to everyone who has worked on this environment strategy, particularly at a time when resources have been stretched as we have dealt with the impact of the Covid-19 restrictions.

"I am passionate about protecting our environment, but we all have a part to play in protecting our naturally beautiful borough.

"I welcome the plans we have set out in this strategy. Now, we must all work together to ensure Cheshire East remains a green and sustainable place for us all to benefit from –helping us to live well for longer."
Councillors agreed the strategy which sets out:
Plans to reduce Cheshire East's own emissions and become a carbon neutral council by 2025, and how businesses, residents and organisations in Cheshire East will be encouraged to reduce their carbon footprint;
How waste and pollution will be reduced through a focus on waste prevention, promotion of initiatives such as 'Recycling on the Go' street litter bins in key town centres and projects supporting street cleansing;
Plans to educate and engage local communities to seek changes in their behaviour – to foster local community pride in the borough's towns and villages;
Measures to review and improve air quality;
Provisions for a range of sustainable transport and active travel opportunities to enable travel on foot, by cycle or by public transport wherever possible, including an electric vehicle infrastructure strategy;
How growth and development of the borough will be managed, safeguarding areas or features of heritage, landscape, ecological or natural resource importance; and
Plans to protect and enhance the natural environment, which provides a range of social, environmental, economic and health benefits to local communities.
The agreement follows new government regulations that allow councillors to take part and vote in virtual meetings without the need to be physically present.
Whilst the council has been focussing on combatting the impact of the Covid-19 pandemic, work has been continuing to ensure important business has been progressing and that essential decisions continue to be made for its residents.
The agenda and papers from the cabinet meeting can be found on the council's meetings pages.