Family-run furniture retailer Arighi Bianchi has appointed a new Head of Communications as the business looks to expand its ecommerce presence.
Lucy Mather (pictured), a fifth generation member of the Bianchi family, will spearhead the business' growth plans in the digital space, leading on a website overhaul and new ecommerce strategy that will see the Macclesfield retailer aim to compete with online giants in the sector, such as Next, John Lewis and Very.com.
Arighi Bianchi, which has traded since 1854 making it one of the longest-running family businesses in the furniture sector in the UK, had already experienced strong year-on-year digital growth since launching online sales in 2015, however ecommerce was brought to the fore following the closure of the retail store during the Covid-19 pandemic.
2020/21 saw a record year for online orders and this is now a firm focus area for growth. As part of its digital strategy, it has also been working with many social media influencers to expand its reputation among younger audiences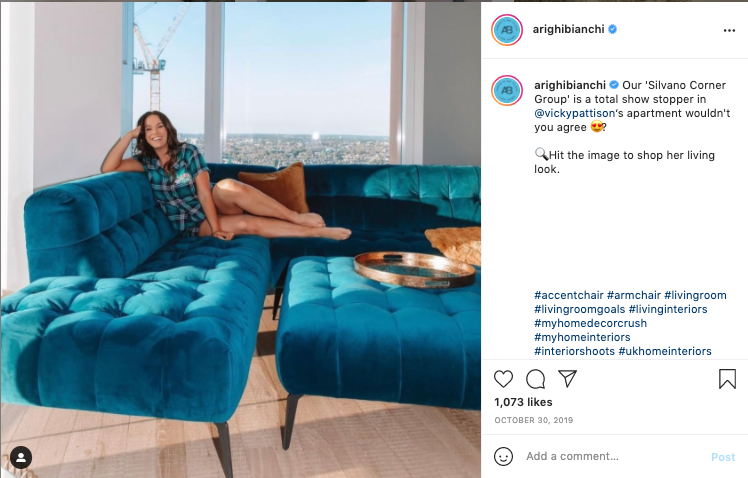 Lucy Mather, who has previously held communications roles outside of Arighi Bianchi with The PR Boutique and Fitism, commented:
It is a hugely exciting time to be joining the family business as we look to significantly extend our national presence through digital channels and appeal to a broader audience. Whilst lockdown was a challenging time – it was the first time the store was closed in its 167 year history – it meant that our e-commerce offering really came to the fore and we saw sales grow and grow. Now is the time to take this one step further and using a multi-channel approach we are aiming to significantly increase our presence and share of voice in media."
Recently appointed Managing Director Sarah Bianchi added:
"I'm proud to welcome another generation of the family into the business. As such an established business in the North West, we're extremely well known among the older generations – but we want to communicate the breadth of our offer and showcase the contemporary furniture and accessories we stock that appeal to fashion conscious buyers. Lucy has joined us to support our digital progression and is helping us to utilise the latest digital techniques to reach our audiences nationwide, through the site, social and PR."