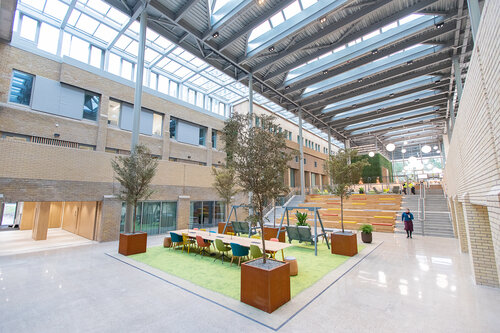 CGI illustration and animation studio, Liddell Jones Electric Images, has become the latest firm to join the new digital community at Alderley Park's Glasshouse.
Liddell Jones Electric Images, whose services include digital illustration and animation for blue-chip businesses, have become one of the first creative businesses to secure studio space at the new site. The company's move coincides with a shift to focus on producing explainer and advertising CGI imagery for well-known brands, such as Grohe, Johnson & Johnson and Nestle. Established over 25 years ago by Blackpool & Fylde College of Art alumni, Jon Liddell and Andrew Jones, the firm was keen to retain their North-west roots in the move to premises.
Co-founder Andrew Jones said:
Glasshouse is an ideal space for Jon and I after being in central Manchester for a number of years.

"It's described as a digital haven and we've enjoyed having the majority of these exceptional facilities to ourselves during lockdown, but are very keen to meet like-minded creatives as people return to this amazing workspace in the coming months."
Dr Kath Mackay, managing director of Alderley Park, said:
Historically renowned as being home to one of the UK's pre-eminent life science campuses, the arrival of Glasshouse signifies Alderley Park as a leading destination for innovative tech businesses, too."
Jon Liddell added:
Our specialism is making complex subject matter easily understandable. Whether it's a detailed process film, medical animation, complex cutaway imagery or photorealistic CGI product rendering, we make it possible for our clients to express imaginative visions that would have otherwise been difficult to convey."
Glasshouse, Alderley Park's new hub for tech companies and forward thinking, innovative businesses officially opened in February. The site provides a location for digital and tech businesses who want to work collaboratively with life science start-ups and scale-ups already located at the Park's Mereside campus.