24 key employers in North-west England and North Wales, including Kelloggs, Jaguar Land Rover, PepsiCo, Kraft-Heinz and Pilkington have formally agreed to work with the HyNet low carbon cluster to decarbonise their industries by switching to hydrogen fuel.
HyNet is a UK leading decarbonisation project, which will supply low carbon hydrogen to fuel businesses and heat homes across the region. The switch to hydrogen will enabling a move away from fossil fuels starting in 2025.
The organisations see switching to low carbon hydrogen as a critical opportunity both to rapidly cut carbon dioxide emissions, helping the UK's journey to Net Zero, and to manufacture low carbon products, driving value for the business and its customers. Each company has signed a 'Memorandum of Understanding' (MoU) with the intent of receiving a future network connection and supply of hydrogen from the HyNet project.
David Parkin, Project Director of HyNet said:
We are proud to be helping such a diverse range of businesses cut emissions. The interest in HyNet from industry shows how much this project is needed. HyNet aims to begin producing hydrogen from the mid 2020's, giving these businesses a route to decarbonise quickly."
HyNet is ideally located close to both the existing infrastructure and the natural assets required to produce and store hydrogen.  The North-west of England and North Wales is the region which has the UK's largest number of people employed in the manufacturing sector, and has the skills base and determination to put the UK at the heart of the hydrogen economy.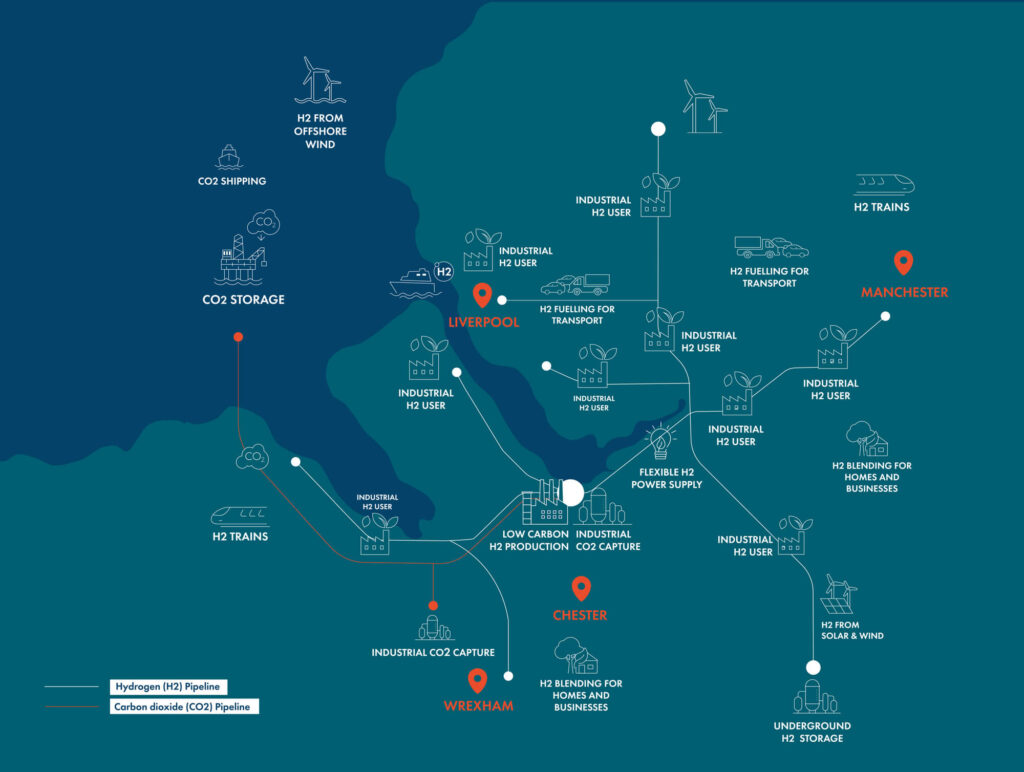 HyNet has recently run a 'global first' trial using hydrogen to produce sheet ('float') glass using 100% hydrogen at Pilkington Glass in St Helens.  The team will shortly run a similar trial at Unilever's Port Sunlight manufacturing facility.  These will provide confidence that these companies and others can safely switch to HyNet low carbon hydrogen as soon as it is available. 
Unlike fossil fuels which release CO2 when burned, only water vapour is released from the combustion of hydrogen, making the fuel a valuable alternative to help the region reduce its environmental impact and meet net-zero commitments.
Steve Rotheram, Mayor of Liverpool City Region, said:
With our existing strengths in green energy, we have the opportunity to become the UK's renewable energy coast, and HyNet, has the potential to reduce emissions across the North West by 25%, will have a big part to play in that.  And our region is central to the HyNet project.  From recent trials in St Helens to upcoming ones on the Wirral, we're doing our bit to pioneer new, industry-altering technology that will massively green our region, and set the standard for others to follow."