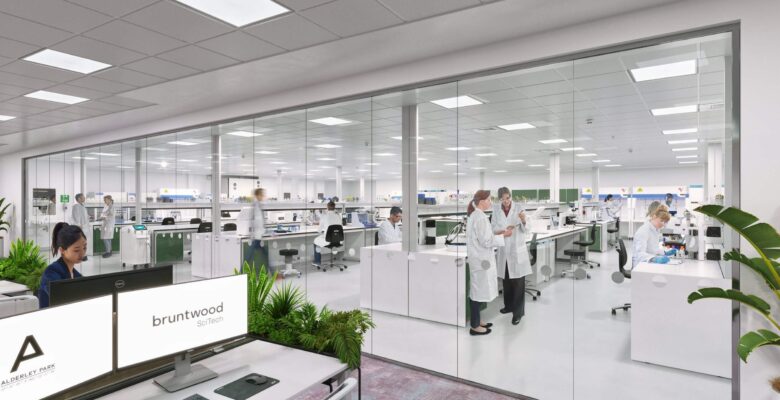 Bruntwood SciTech has completed the redevelopment of 86,000 sq ft of lab space at Alderley Park as part of a £247 million programme of investment in the hub.
The £20 million investment has upgraded existing lab spaces to provide high-specification biology and chemistry containment level two (CL2) laboratory suites, as well as creating write-up, breakout and presentation spaces to encourage collaboration between companies and colleagues at Alderley Park.
Cheshire and Warrington Local Enterprise Partnership has provided £4 million to the redevelopment scheme, that further cements Alderley Park as one of the UK's leading science and technology campuses. Work is part of the park's longer term masterplan, with plans currently being proposed for an additional 200,000 sq ft of lab space and office space for technology businesses.
Kath Mackay, director of life sciences, Bruntwood SciTech, said: 
"The life sciences sector is witnessing rapid and continued growth in the North West and the creation of these pioneering workspaces speaks to that demand.

"Our newly redeveloped laboratories are a step change from traditional lab environments as the industry sees a shift towards an ecosystem of workspace that offers opportunities for young, innovative companies to collaborate alongside sectoral leaders. Alderley Park's latest injection of high quality biology and chemistry labs will further facilitate this."
Philip Cox, chief executive of Cheshire and Warrington Local Enterprise Partnership, said: 
"We are continuing to grow and enhance Cheshire and Warrington's reputation in the life sciences sector and Alderley Park is a key part of our ambitions.

"We recently launched the GMC Life Sciences Fund by Praetura, allowing us to invest in innovative companies in the region. Alongside key developments within Alderley Park's Mereside life science campus this means that life sciences will continue to flourish in Cheshire and Warrington and the wider region."
Fairhursts Design Group acted as lead architect on the project and oversaw the bespoke refurbishment of the reception area. Alderley Park's new biology and chemistry laboratory suites range from 2,5000 sq ft to 11,200k sq ft. Phase one of the project (36,000 sq ft) has now completed, with phase two (50,000 sq ft) due to complete in August 2022.