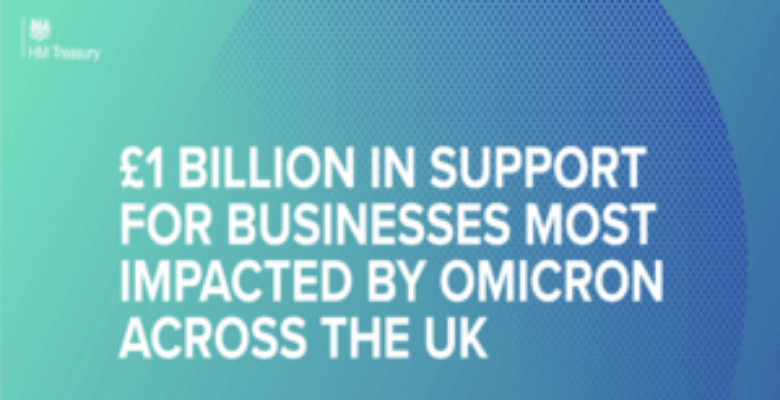 In response to the rapid spread of the Omicron Covid-19 variant, Chancellor Rishi Sunak has announced a number of financial support measures to support affected businesses.
Grants for the hospitality and leisure sector
Businesses in the hospitality and leisure sector will be eligible for one-off grants of up to £6,000. Local authorities will also receive a further £100 million in discretionary funding to provide additional support.
The grants come in response to widespread cancellations of bookings and reduced footfall due to concerns over Omicron spread: Hospitality UK reported that many businesses have lost 40-60% of their December trade. The grants, which will be administered by local authorities and should provide support to around 200,000 eligible business.
The additional £100 million discretionary funding will also support businesses outside of the hospitality and leisure sector that have been impacted, and will be allocated by local authorities under the Additional Restrictions Grant (ARG) scheme which launched earlier this year.
Prior to the Chancellor's announcement, Cheshire East Council had extended the application deadlines for their discretionary grant schemes and increased the maximum amount of funding available. Further updates to Covid-19 business support available from the council will be added to their website's grant scheme pages.
Statutory Sick Pay Rebate Scheme
With the rapid spread of the Omicron variant, small businesses impacted by elevated levels of absence due to Covid-19 and self-isolation requirements, the government has reinstated the Statutory Sick Pay Rebate Scheme.
Under the scheme, businesses with fewer than 250 employees will be reimbursed for the cost of paying statutory sick pack for Covid-19 related absences for up to two weeks per employee.
The scheme launched on 21st December and businesses will be able to make retrospective claims from mid-January.
Culture Recovery Fund
The Culture Recovery Fund, which has supported theatres, orchestras, museums and other cultural destinations that have been hit by Covid-19 restrictions, has also received an additional injection of funds to support organisations to March 2022.
A further £30 million of funding will be made available through the scheme, which has so far provided nearly £240 million of grant support to the cultural sector since April.
Prime Minister, Boris Johnson said:
With the surge in Omicron cases, people are rightly exercising more caution as they go about their lives, which is impacting our hospitality, leisure and cultural sectors at what is typically the busiest time of the year.

That's why we're taking immediate action to help with an extra £1 billion in grants to these industries and reintroducing our Statutory Sick Pay Rebate Scheme.

I urge people across the country to please get boosted now to secure vital protection for yourselves, your loved ones and your communities.
Chancellor of the Exchequer, Rishi Sunak said:
We recognise that the spread of the Omicron variant means businesses in the hospitality and leisure sectors are facing huge uncertainty, at a crucial time.

So we're stepping in with £1 billion of support, including a new grant scheme, the reintroduction of the Statutory Sick Pay Rebate Scheme and further funding released through the Culture Recovery Fund.

Ultimately the best thing we can do to support businesses is to get the virus under control, so I urge everyone to Get Boosted Now.